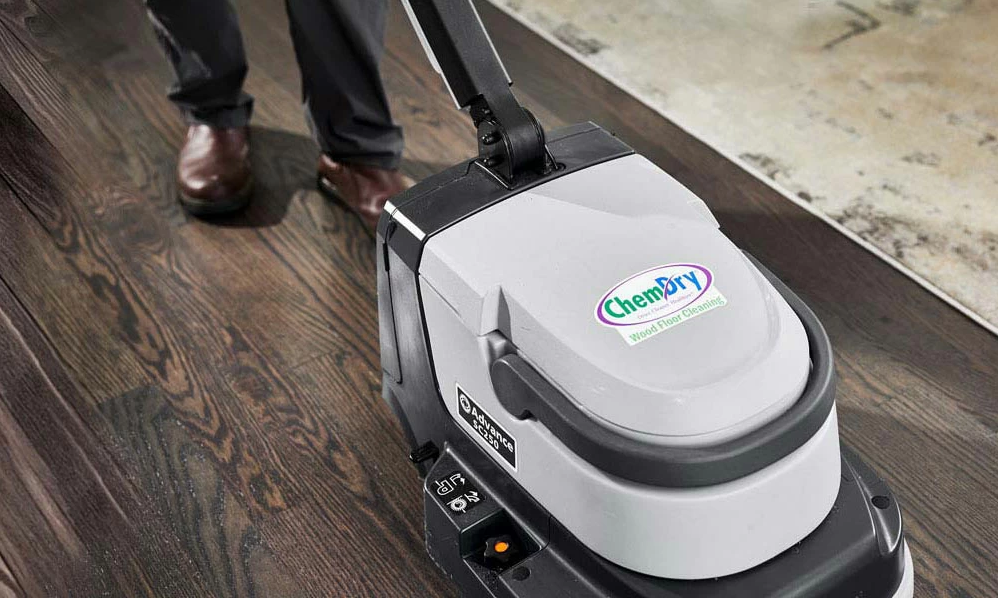 Wood floors are one of the most popular choices for homeowners today. Solid hardwood and engineered wood floors are a great choice for their durability and long-lasting beauty. Chem-Dry offers industry-leading cleaning solutions for your entire home including our Wood Floor Cleaning Process combining sanitizing, cleaning and polishing to provide a deep clean and help you fall in love with your floors all over again.
The Chem-Dry Wood Floor Cleaning Process
Our wood floor cleaning process is designed for solid hardwood, engineered wood floors, and luxury vinyl tile (LVT) type flooring. Our process uses a Chem-Dry Green Certified solution to remove dirt, grime, and allergens, such as pet dander and dust mite matter.
First, we use counter-rotating brushes that penetrate the grain of the wood for a deeper clean while using minimal water to protect the floor from damage.
Next, a powerful vacuum extracts the moisture along with the dirt and grime, leaving behind sparkling clean floors.
Finally, we apply wood floor polish to highlight the beauty of the wood grain and add a layer of protection until your next cleaning is needed.
Here's a closer look at each step in our wood floor cleaning service: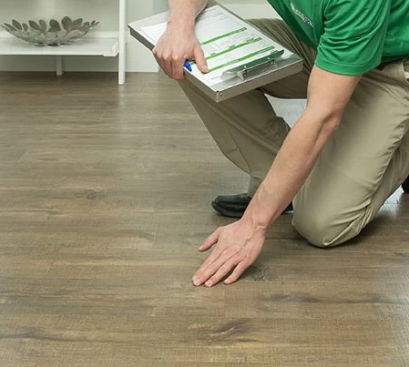 Step 1: Inspection
Our professionally trained Wood Floor Cleaning technicians will perform a thorough inspection to identify any deep scratches and blemishes. They'll also determine if your floor has an acrylic coating. It's important to note that our process is not designed to repair deep scratches, gouges, discolorations, or stains in the wood and is not intended for use on bare wood floors.
Step 2: Polish and Acrylic Coating Removal
If the technician determines that your floor does have an acrylic coating or polish, it will be gently removed using our Wood Floor Polish Remover.
Step 3: Deep Cleaning
Next, we perform a deep cleaning of your wood floor using our Chem-Dry Green Certified cleaner that will remove dirt, debris, and any contaminants. The result is a sparkling clean, streak-free floor!
Step 4: Wood Floor Polish
The final step is an application of our Wood Floor Polish to highlight the natural beauty of your floor and the wood grain. Our polish also adds an additional protective layer to the surface of your floors until the next cleaning is needed.
Why Choose Chem-Dry for Wood Floor Cleaning?
There are dozens of home cleaning solutions and DIY retail products designed to clean hardwood flooring. While these products can provide easy short-term results, they can also cause unseen damage and allow residue, dirt, and grime to build up over time. A periodic professional wood floor cleaning is the best solution to protect and enhance your floors.
When you choose the Chem-Dry Wood Floor Cleaning process, you can expect a number of benefits such as:
Removal of dirt, grime, and allergens from pet dander

Increased lifespan of your wood floors

A superior deep clean to typical mopping

A protective barrier to help prevent future damage

A beautiful, durable shine

Minimal moisture exposure, which prevents potential damage
| Chem-Dry Wood Floor Cleaning | DIY Mopping |
| --- | --- |
| Uses a Chem-Dry green-certified cleaner, safe for people & pets | Uses soaps and detergents, which can contain harmful chemicals |
| Industry-leading equipment with counter-rotating brushes that penetrate the grain of the wood | Wet mop skims across the surface of the wood floor |
| Provides deeper clean that removes dirt, grime & allergens from in the wood grain | Surface cleaning that doesn't penetrate wood grain |
| Uses minimal water, protecting the wood from damage | Uses a lot of water that can soak into wood and cause damage such as buckling |
| Powerful vacuum extracts moisture along with dirt and contaminants from your floors & home | Mop soaks up some dirt and contaminants but also spreads it around floor and doesn't extract it from home |
| Uses durable polish that leaves a protective barrier and healthy shine | Can apply polish that typically won't last long or provide much protection against damage |
Contact us today to schedule your free estimate for our Wood Floor Cleaning Service!
Get a Free Quote From One of Our Trained Professionals Today
Contact us to schedule a free, no-obligation appointment with one of our Professional Technicians. We'll do a thorough inspection and provide you with a quote for our services including our Healthy Home Package. We are proud to be your Healthy Home Provider!