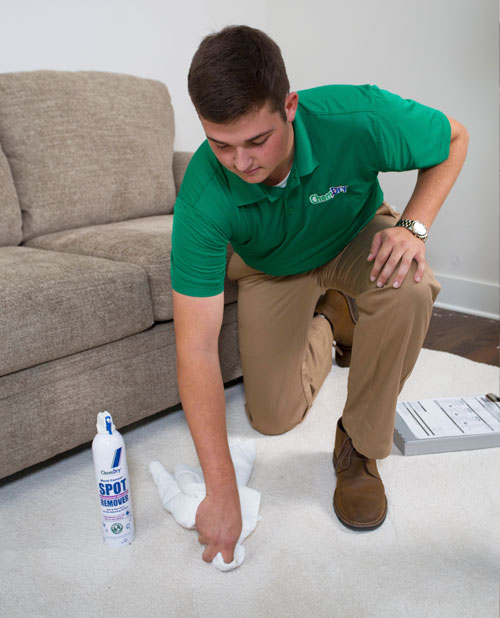 Specialty Stain Removal in Chapel Hill & Durham
Beyond providing industry-leading cleaning solutions for carpets, upholstery and area rugs, our professionally trained technicians are fully equipped to handle even the most stubborn stains.
Chem-Dry professional technicians can remove most any stain. Armed with an arsenal of the industry's finest stain-removal products and tools, Chem-Dry can remove, or minimize all types of stains.
Your best chance for removing a stain is as quickly as possible after the spot is made. The longer a spot sits on the carpet or upholstery, the harder it becomes to remove. While most stains can be removed, some require advanced technical skill and expert cleaning solutions. Chem-Dry leads the industry in products and solutions, helping you win the battle against tough stains.
Chem-Dry technicians are willing to try and remove any stain. We have had success removing spots such as: berries, soda, juice, blood, candy, nail polish, coffee, honey, Kool-Aid, jelly, mud, lipstick, Ketchup, marker, rust, throw-up, urine, wine and many others. Each stain is somewhat unique, but our staff is expertly armed to battle even the toughest stains.
"If we can't get it out. No one can." Your Chem-Dry professional is prepared with tools to remove virtually any stain. Our technician will prepare an on-site evaluation for any stains and provide a no-obligation estimate.
From ink to wine and coffee, glues or other seemingly permanent damage, you can trust Chem-Dry of Chapel Hill-Durham  to remove those stains. Call today to learn more.
Specialty Stain Removal
Chem-Dry
★★★★★
Some stains seem impossible to remove. Chem-Dry of Chapel Hill-Durham offers professional cleaning solutions, specifically designed for the toughest of stains.
Customer Reviews
I would highly recommend!
- by
Laura S.
,
November 30, 2019
5
/
5
stars
★★★★★
"I had some very seriously stained carpet from the previous owners and their pets when I bought a home. Chem-Dry was able to remove all the unsightly spots and odors with the carpet. Very professional men came to my home and finished the job in a matter of hours. Dry time was very quick as well. I would highly recommend as they know what they are doing and provide the best options to choose for how you want your carpet treated."
Professional and Very Focused On Customer Service
- by
Mary A.
,
February 26, 2020
5
/
5
stars
★★★★★
"I've been a loyal Chem Dry customer for about 20 years. Bob and his crew are professional and very focused on customer service. Bob schedules appointments really quickly and his crew work efficiently. I've had stains on my carpet that they've worked hard (and successfully!) to treat. I also have my living room furniture cleaned and scotch-guarded and I'm convinced that that regular treatment has greatly extended the "new" look and condition of the furniture. I recommend this service!!!"