Essential Solutions for Utah Carpet Cleaning
Mr. Chem-Dry is a Utah green carpet cleaning company that is based in Centerville, Utah.  We service the northern part of the state, and are proud to be a Chem-Dry franchise. We use their green and efficient carpet cleaning techniques to offer the highest quality in carpet cleaning.
As a leading Utah Green Carpet Cleaning company, we take pride in promoting healthy households, and ensuring that everything we do helps to support a sustainable environment. We use a low-moisture, green and eco-friendly cleaning process that deep-cleans your carpets in a safe and healthy fashion. We understand that your carpets are an important part of your interior decor, and we know that you want to make sure they are as appealing as possible. We will always take care to help you get the best looking carpets, and to clean them in a way that protects them, you and your family, and the environment.
The Greener Way to Clean Carpets
The Utah Green Carpet Cleaning service provides carpet cleaning that is eco friendly, non-toxic, and safe. We use a special, proprietary cleaning formula that is known as The Natural, and which is based on (as the name suggests) entirely natural cleaning techniques.  We use just 1/5th the amount of water that rival steam cleaning services use, and this means we use less energy too.  You will benefit from a cleaner and healthier home as well as great looking carpets.  We use no harsh chemicals and no enzymes. You can be confident that our cleaners are soap, solvent and detergent free, so it won't harm you or your pets.
Our The Natural cleaner is made from natural ingredients that are generally recognized as safe. It is green certified and it will not leave behind any residue. It is one of the healthiest and most environmentally friendly options in terms of carpet cleaning.
Chem Dry's green program is designed to ensure that you get the best and safest cleaning for your carpets. It uses carbonated cleaning solutions that will lift dirt out of your rugs can carpets, and that won't harm wool or other fabrics. It is a powerful stain extinguisher, and it is ideal for removing pet odors, cleaning out dust mites and allergens, removing spots of dirt, and generally getting your carpets back to their former glory.  We are one of the only Utah green carpet cleaning companies that offers highly successful pet urine removal treatments that are free from harsh chemicals and generally not likely to expose you to allergens.
If you are looking for an effective way to clean your carpets, then you should give us a call. We are confident that you will agree with our former customers, who praise our consistency, cleaning quality and value.
We offer far more than just cleaning, too. We will patch up damaged carpets, clean tiles, do some other cleaning jobs, and help with pet damage and restoration work for other common problems as well.
Caring for Your Carpets
It's a good idea to have your carpets deep cleaned on a regular basis. There are no strict rules for how often you need to clean your carpets. Cleaning frequency tends to depend on how many people live in your home, whether you have pets, how much through traffic an office gets, whether you have kids that like to wander around in muddy shoes, and also the kind of carpets that you have. Deep pile carpets will naturally experience more severe dirt build up than other types.
A young, professional couple that rarely spends time at home can get away with getting their carpets professionally cleaned less often than a family of four with a pet. Some families may need their carpets cleaned every six months, and in that case, using a Chem-Dry cleaning service will be less 'dangerous' for you than using a chemical based cleaning service.
The chemicals that some cleaners use can be harmful not just to the wider environment, but to the people that live in or spend time in your home. They can break down carpet backing, pull out dyes, and release toxic fumes that can harm your respiratory system. They may aggravate asthma and skin conditions, make babies sick, and be harmful for your pets too.
Chem-Dry offers all of the sanitary benefits of traditional cleaners, without the risk. There are solutions for furniture, rugs, tiles, granite counters and even leather goods, not just for carpets.
If you would like to know more about our services, please don't hesitate to give us a call. We would be happy to explain how the Chem-Dry cleaning service works, and if you would like to try our services then a member of the Mr. Chem-Dry team would be happy to visit your northern Utah property and give you a quote for cleaning your carpets. We will always do our best to arrange a visit at a time that suits you. Our team are professional, polite, and trained to give the best customer service, and to answer any questions you have about the cleaning process as accurately as possible.
The cleaning products we use are designed to be non-destructive, and should not fade or damage modern carpets. If you have period decorations or anything very fragile, then we recommend that you highlight this to the person who visits your property so that they can take that into consideration, especially if you need any unusual stains removed. We will always do our best to ensure that we leave your carpets and upholstery in a better condition than they were when we arrived. You can help us give you the best possible cleaning service by informing us of any unusual furnishings and any concerns that you may have, so that our team can work with you.
Mr. Chem-Dry take pride in being one of the most friendly, professional and effective carpet cleaning services in Utah. Give us a call so that you can see for yourself why we get so many repeat customers.
Our Carpet Cleaning Process
Our innovative Hot Carbonating Extraction Process uses the natural power of carbonation to achieve a deeper, longer-lasting clean. Millions of tiny bubbles are sent deep into your carpets to loosen dirt, grime, and non-living allergens, then lift them to the surface where they are whisked away by our powerful extraction equipment. This is all done using around 80% less water than traditional steam cleaning, which results in faster dry times and less risk of mold or mildew growth due to wet carpets.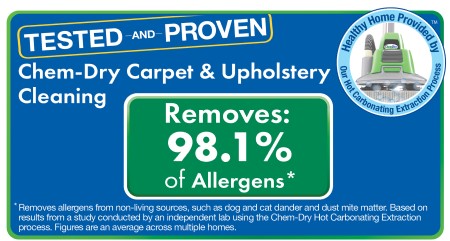 Tested and Proven Results
Our Hot Carbonating Extraction (HCE) process was tested by a leading independent air quality laboratory in multiple homes. The lab found that Chem-Dry removes an average of 98.1% of common household allergens from carpets and upholstery*. The common allergens tested were dog and cat dander and dust mite matter.
Chem-Dry Green Certified Cleaning Solution

The heart of our carpet cleaning process is a Chem-Dry Green Certified solution called The Natural®. Unlike the harsh chemicals and soapy detergents that other cleaners often rely on, our core cleaner is based on ingredients copied from Mother Nature and is one of the purest carpet cleaning solutions available. You can trust Chem-Dry to deliver a deeper clean that is safe for your entire family.
Remove Stubborn Odors from Carpets
From cooking to pets, your home is filled with odors that get trapped in the fibers of your carpet. Unfortunately, many of these odors can linger even after a professional carpet cleaning. Don't worry, Chem-Dry has a solution! An application of our Fresh-n-Free™ deodorizer attacks odors in multiple ways, ensuring that even the toughest odors are knocked out.
Our deodorizer causes chemical reactions that neutralize odors and also entraps odor molecules to easily extract them during our Hot Carbonating Extraction cleaning process. With this approach, odors aren't just masked – they're eliminated, leaving nothing behind but clean and fresh carpet.
If you have pets, you know that pet urine accidents are particularly pungent and typically require specialized treatment. Our revolutionary Pet Urine Removal Treatment (P.U.R.T.®) is unmatched in the carpet cleaning industry. Other cleaners often simply mask the odors with perfume, but an application of P.U.R.T. has been tested and proven to remove 99.9% of pet urine odors from carpets. Visit our Pet Urine Removal page to learn more about this service.
Innovative Carpet Cleaning Technology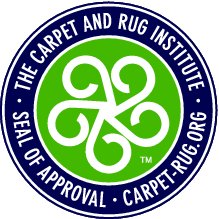 Chem-Dry is preferred by customers and professionals alike. The Carpet and Rug Institute (CRI) has awarded our Hot Carbonating Extraction System with the Platinum Seal of Approval, which is the highest level available for cleaning systems.
What does this mean? The CRI Seal of Approval program tests the effectiveness of carpet and rug cleaning equipment and certifies that deep cleaning extractors effectively remove soil without damaging carpets. The endorsement is intended to help consumers make informed decisions when choosing a carpet cleaning company.
To put it simply, it's even more assurance that you can trust Chem-Dry to provide a deep clean that won't damage delicate carpet fibers.
Don't forget, when it comes to the best carpet cleaning in your area, Mr. Chem-Dry is your best choice. Our goal is to provide you with a clean and healthy home at affordable prices. Our hope is that you become a long-time friend for years to come. We are proud to serve this community with industry-leading services.