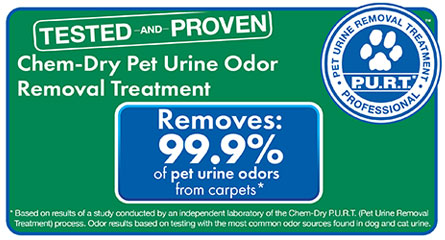 Utah Pet Urine and Odor Removal
Eliminate Unsightly And Smelly Pet Stains
Your pets are a part of the family. They make mistakes just like the rest of us. Only, their mistakes leave stains and a bad smell in the carpeting. Carpets have a way of holding onto unpleasant scents and unwanted material, even when we make our best efforts to remove them.
Have you bought every pet spot and carpet cleaning product on the market to no avail? Are you thinking you may have to just learn to live with stains and that lingering urine stench? Instead, read on to find out how Mr. Chem-Dry can help. Located in Centerville, Utah, we serve Northern Utah. Our process is the best for removing stains and dirt while ensuring your carpet lasts longer.
First, more about why those products from the supermarket may not only do nothing, but harm your carpet. As it turns out a lot of the products on the market leave a soapy residue in the carpet fiber. It may attract more dirt. More dirt means that your carpet fibers are gnashed and shredded as you walk on them. In short, dirty carpeting shortens the life of your carpet.
The Carpet's Hidden Pet Dirt
Homeowners just like you love having the convenience of letting Fido outdoors to play in the yard. When Fido comes back in, he may have fungus, pollutants, pollen, and even bacteria on his paws and face. He tracks it all over the carpet. The same is true for your family. As you all come and go, you may track many particles that are best left outside, and trap them inside your carpet's fibers.
Perform Regular Care And Maintenance
Vacuum carpets weekly to loosen and remove dirt. Again, dirt is tough on carpets. It is so rough on carpets it cuts fibers to shorten the life of carpeting. Remove dirt frequently to enjoy your carpet for a long time to come.
In addition, vacuuming may remove fungus, pollen, and spores. Yet, even the biggest carpet manufacturers in the world recommend professional carpet care using our patented method of cleaning. It extends the life of the carpet fibers while keeping your house healthy and odor-free!
Why Chem-Dry Services Are The Best
There's a compelling reason the top manufacturers in the world recommend Chem-Dry services over traditional shampooing and dry compound cleaning processes. For one, Mr. Chem-Dry uses no chemicals but is the most effective cleaning method out there.
It gets the carpet clean and dry without introducing harsh chemicals. Before exploring more about it, it's important you learn about the ill-advised methods. Shampooing is similar to purchasing those store-bought cleaners. The soapy residue attracts dirt. Traditional cleaning may leave behind water that allows mold to grow in the fibers and carpet backing. One other method is dry chemicals. It is not all that fantastic either, because again, something is tossed on the carpet, and left to sit.
Experience The Chem-Dry Difference
Mr. Chem-Dry is the most effective method to clean your carpets. It is reliable, and you can trust that 99.9% of the pet urine and odors will be removed by our treatment method. It removes 99.2% of bacteria found in the pet urine from your carpeting as well.
Meanwhile, Chem-Dry is a simple idea that is very effective, providing the toughest Utah pet urine removal treatment. For one, the first order of business is to identify where all of the pet stains are so that they can be thoroughly removed. Our carpet cleaning technicians come into your home and use a UV light to root out all of the urine spots. It's a little like watching a mystery or crime show. We use a special UV light to catch all of the places where Fido left behind urine. The next step is to rinse the carpet using the Chem-Dry proprietary secret -- carbonated water.
The carbonated bubbles burst in the carpet fibers to release the dirt, liquid, and loosen urine crystals. Our machines pull the minimal water and the urine out of the carpet. The Utah pet urine removal treatment includes an odor remover that goes deep into the carpet, the backing, and even down to the sub-floor. Because Utah pet urine removal treatment is such an effective and thorough process it is able to reach deeper than any other products or competitors' cleaning methods.
While Mr. Chem-Dry does use hot carbonated bubbles to clean, it does not over-saturate the carpeting, carpet backing or sub-flooring. In addition, the team removes any excess liquid from fibers to prevent mold growth in the carpeting and flooring.
That means that the carpet comes clean and is dry faster than through other carpet cleaning methods. It is also more thorough as it eradicates urine odors and stains. The unwanted scent is gone for good. That's the benefit of the Mr. Chem-Dry Utah pet urine removal treatment.
Customer Satisfaction A Given
It's those gems in the rough customers love. The companies whose aim is to please customers by delivering great services while being friendly, courteous, and approachable.
That's one more part of the Mr. Chem-Dry difference. Not only do we use Chem-Dry's patented superior cleaning and drying methods, but we do so with a smile. Our aim is to keep our customers happy, treating them like dear friends and family.
Part of that means providing a great service at a fair price. Consider this when comparing Mr. Chem-Dry to other carpet cleaning companies. We know that you work hard for your money, and make great strides to maintain your home for the long-term.
Our service is an extension of home maintenance. Our method cleans deep while maintaining a dry carpet backing and flooring. We simply use hot carbonated water to clean your carpet. The process is so thorough, you will notice your carpet is dry within hours, not days.
And, you will be able to feel better about your home, because the carpeting will be like new. No stains, and no awful unwanted odors wafting throughout your home. Everyone can breathe a sigh of relief, including your pets. Call us first when you are looking for environmentally friendly green carpet cleaning that works, Northern Utah. We look forward to hearing from you and working hard for you, neighbor.
Urine in carpeting is a severe problem that can sometimes require major restoration work, not just simple cleaning and treating. But now, with Chem-Dry's Pet Urine Removal Treatment (P.U.R.T.®), your most severe urine soaked areas can be saved. P.U.R.T.® is a revolutionary process specially formulated to eliminate urine odors forever. This product has shown excellent results on even the most severe urine and other odor-causing spots by working to stop the smell at its source instead of simply masking the odor.
Tested and Proven Superior Results
An independent laboratory conducted multiple tests of P.U.R.T., our revolutionary process for treating pet urine odors and stains. In tests against the most common odor sources found in dog and cat urine, the study concluded that P.U.R.T. removes an average of 99.9% of pet urine odors from carpets.
Facts You Need To Know About Pet Urine In Your Carpeting:
Urine deposited on carpet does not stay there, it penetrates the fibers and contaminates both the backing of the carpet and the flooring material below the carpet. Often, without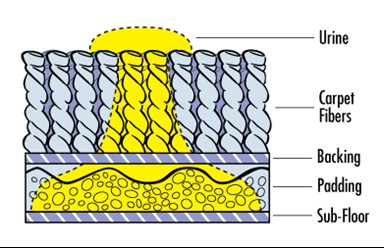 your knowing, pets will urinate continually in the same general location. Urine odors can permeate from the floor, be it cement or wood, from the tack strip, and even from the framework of the house behind the walls.
As the urine dries, the liquid evaporates but the urine crystals become even more concentrated and pungent. Simple cleaning will not remove this odor. Until recently, there was not a product available that was effective at removing urine odors. When P.U.R.T.® contacts the source of the odor, it immediately begins a chemical reaction that destroys the urine odor.
We offer our Utah pet urine odor removal service to everyone in our area. Our professionally trained technicians will take care to inspect your home, identify any issues you may have and provide a free, no-obligation quote prior to beginning service.
Contact 801-298-8125 today!