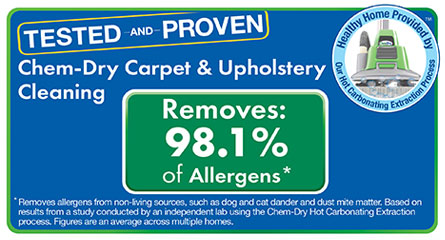 Utah Upholstery Cleaning Services
Utah Upholstery Cleaning
If you live in Utah, let us help you with your green cleaning needs. From your carpets up, our services are proven to help folks like you to keep the air in their homes clean. We can help with your Utah upholstery cleaning, carpets and more when you contact our Chem-Dry franchise.
Our expert technicians have all been trained in the green cleaning methods that have made Chem-Dry a household name across the nation. You and your family deserve to have that work and training help with your home.
Although many are familiar with our revolutionary carpet cleaning processes, not everyone has heard of our upholstery work. This process allows your couches, chairs and other furnishings to look better and last longer than otherwise.
You can vacuum these pieces of furniture, but deep cleaning is vital for the removal of allergens, dirt and dander. These tiny particles can create wear and tear on the fibers of your upholstery. Additionally, your Utah home will carry odors associated with the microscopic organic matter that has accumulated in the furnishing.
Independent lab tests have shown that more than 99 percent of allergens are removed with the HCE process used by all Chem-Dry franchises, including our Centerville location. Hot Carbonating Extraction removes pet dander and dust mite particles from the upholstery in a remarkably safe manner for you and your loved ones.
The green processes that we use for all of our Utah upholstery cleaning and protecting is non-toxic and will not harm your family. Once your furniture has dried, your kids, pets and elderly family members can use it safely just like you. You never need to worry about the carbonated cleaning solution damaging these or other sensitive loved ones who might come into contact with it.
The Natural cleaning solution we use on your carpets is the same for your upholstery. Independent tests have shown it is free from soap and harsh chemicals used by our competitors. Not only does that improve the quality of the cleaning experience, the process we use does not leave behind residue.
The chemical residue that remaining from other processes collects dirt and grime, which means the furnishings need to be cleaned more frequently to stay bright and soil-free.
While we are working on your order, talk to the representative about our upholstery protectant. Your Utah home and furniture will last much longer if you utilize this environmentally friendly barrier. This helps to prevent stains, which can be quite beneficial to homes with animals, pets or even lots of people who enjoy the outdoors!
The Clean and Protect Package is great for virtually every type of furniture fabrics and materials that you are likely to have in your home, including natural and man-made ones.
This restorative process helps to create an invisible barrier that will keep stains from immediately being absorbed into the fibers. This gives you time to clean the mess before it ruins the cushion. The protectant can be reapplied when your upholstery is cleaned again to ensure that it always has the best barrier possible to prevent damage.
At the same time, you should speak to our representative about a healthy home. For families with asthmatics and others with breathing troubles, maintaining high air quality should be a priority. The deodorizer and sanitizer will get rid of bacteria and allergens in addition to microscopic odor-causing particles in your furniture.
You can have your mattress and bedsprings deodorized in addition to most of your other furnishing. The combination of treatments will help to ensure that your home is as clean as possible.
To get the most from your experience, you should be ready when our representatives arrive. The first step is to remove everything on and around the furniture that is to be cleaned. Toys and other small items should not be on the floor. If you have throw pillows on your couch, remove them. The cleaners need to access everything with ease.
If you have noticed that your furniture has stains or problem areas, make note of where they are. Then, when the technicians arrive, you can point these out. This will allow our experts to ensure these areas receive extra attention during the cleaning process.
For families with pets, we recommend that you move the animals to a safe, secure location. Although many of us have pets ourselves, for yours, our visit can be an intrusion. Minimize the stress your animals feel by keeping them far away from the cleaning action.
Likewise, if you have small children, schedule the time when we can perform your Utah upholstery cleaning with minimum intrusion on your schedule. Make sure that the arrival time is not the same as the time you put your little one down or will otherwise need all of your attention.
After the cleaning has been completed, you need to make sure that the furniture is completely dry before you use it again. The representatives will tell you how long that should be as it will differ based on the materials and other factors.
Maintaining a comfortable and safe home entails many things, including having your Utah upholstery cleaning performed regularly. For low use items, you can have the furniture cleaned every two to four years. The more wear and tear an item sees, the more frequently you should have it cleaned. Likewise, if you live on a dirt road or otherwise accumulate a lot of dust in your home, stepping up the schedule is in your best interest.
Maintained furniture looks and smells better for longer. That simple fact makes regular cleaning essential. Utilize green cleaning services from our experts for the health of your entire household. Contact our offices today for an appointment.
---
The Process
Chem-Dry provides a deeper, longer-lasting, healthier upholstery cleaning experience. Using a Chem-Dry green-certified carbonated cleaning solution that's heated to over 200 degrees, millions of tiny bubbles lift dirt, grime, dust and other allergens from the fibers of your upholstered furniture to the surface where they're easily whisked away. Since we use about 80% less water than typical steam cleaners, having your upholstery cleaned by Chem-Dry will result in a faster dry time and cause less disruption in your home.
Your Home
We know you have a choice when it comes to selecting an upholstery cleaning service. We promise to treat your home, your family and your pets with the courtesy and care you deserve. Our friendly, professionally-trained technicians understand that getting ready to have your furniture cleaned is a big deal, and they take pride in delivering superior, healthier results for your family and your home.
Tested and Proven Superior Results
Chem-Dry commissioned a leading independent laboratory to test the performance and healthfulness of our Hot Carbonating Extraction (HCE) cleaning process. The lab concluded that Chem-Dry's HCE process removes an average of 99.1% of common household allergens from upholstery. The allergens tested were dog and cat dander and dust mite matter.
Chem-Dry uses the power of carbonation to lift dirt and soil to the surface of your fabric upholstery where it is sucked away using our powerful Chem-Dry cleaning systems. The secret to our drier, healthier upholstery cleaning is the millions of tiny effervescent bubbles in our Chem-Dry green-certified cleaning solution, called The Natural®. Because our safe, non-toxic solution doesn't contain phosphates or detergents and doesn't leave behind a dirt-attracting residue, your fabrics will stay cleaner for longer.
Chem-Dry Offers Unique Advantages
Safe for all kinds of upholstery, including some of the finest natural fibers and the hardiest synthetics.
Safe for children and pets.
A money saver because Chem-Dry leaves no sticky or dirt-attracting residues, which can prematurely resoil your upholstery and require more frequent cleaning.
Great for auto interiors, boat interiors, office dividers, furniture and any upholstered item.
Chem-Dry's Fabric Protector shields your upholstery by forming a water and oil repellent barrier on the surface of your upholstery material.
---
Our professionally-trained upholstery technicians are ready to help you with solutions to your upholstery cleaning needs. Call today for a free quote.