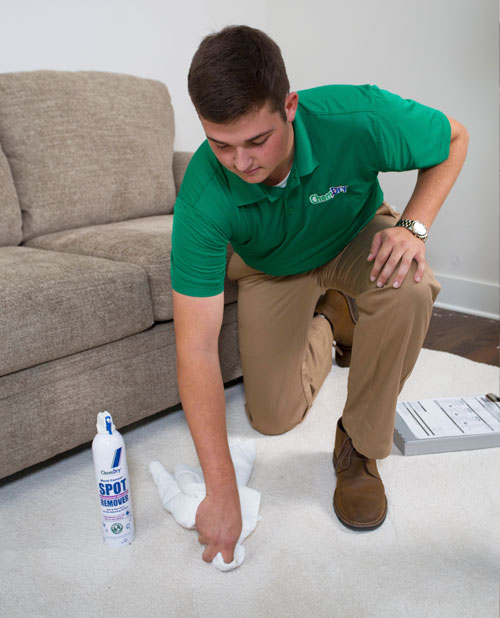 Utah Specialty Stain Removal
Get Rid Of Tough Stains With Our Specialty Cleaning Methods
Stains are the one items that are nearly impossible to remove from your carpet, furniture, or clothing. While we do not really tackle the clothing aspect we are a company that has been able to tackle the hardest of stains and almost always come out on top. Now, we cannot get rid of all the stains as that would be impossible because we know some people would challenge this claim! However, we are a company that is able to take care of most of the stains and this is how we are able to do it to guarantee your furniture will look great and ready to be used. 
Evaluation Of The Stain
The first thing that is going to happen no matter what you decide to do is to evaluate the stain. You may know what caused the stain, which will speed up the process, but not all the time will you know the cause of the stain and this is very true if you have younger kids who have a tendency to spill items and know let you know they spilled until you find it weeks later when you pick up the room. 
During this process it allows us to get a better idea on what the stain is and how to tackle the stain. Each stain will require a different cleaning agent to get it removed as best we can, but it is definitely worth the work that it takes to get rid of the stain as you will notice it is going to make it easier for you to have a great look to your home and know that if it happens again we are able to come out and help you get your home restored to the great look you want to have. 
Picking The Proper Removal Product
With the products that we carry on our cleaning trucks, we are going to be able to go back out and find the product that will remove the stain. So you are going to have a great look for your furniture and carpet again. Here are some of the stains that we are able to tackle using the products we carry and know that it will remove the stains completely so the products that were stained before are going to look completely brand new.
- Wine is a very common stain because at a dinner party you will find that some people are going to get bumped into and spill their cups. Since this is a common stain you will find our cleaners are able to come out and help get rid of the stains quickly and easily.
- Food stains are another common item you will find that are stubborn and a lot of companies will not touch. When you are looking at the carpet cleaning and upholstery cleaning agents you will find ours are geared towards getting rid of the stain and keeping it looking great. At the same time, though, you will notice that you are going to be able to get the stain removed quickly and easily.
- Pet accidents are a major issue if you have any pets. These accidents not only stain, but they continue to smell and have some bacteria in them even after you have picked them up. With our cleaning agents we are not only able to remove the stain, but also remove close to 100% of the bacteria that is in the pets waste products. 
- Dirt, mud, and grass are another issue that a lot of people have had to deal with. This is an item that you can solve the issue with, though, if you are using our service as we are able to remove most of these types of stains. 
Stain Prevention
Prevention is going to be key and you will find when you are using our services we will advise you on how to prevent the stains from coming back. This often is going to include a prevention routine and treatment that will help you out in getting the great look you want to have and keeping it looking great. So you will love the fact that we are able to provide you with the items to use to help prevent the stains from coming back over time. 
Looking at your carpet or upholstery you may notice that it does have some stains on it. This is when you should know more about the way that you can get rid of the tough stains with our specialty cleaning and prevention methods. Once you know about our company and the stains that we can handle then you will not mind contacting us. Not to mention, when you see how easy it is to get a prevention put in place it will be very easy for you to see this is the best way to keep the carpet and upholstery looking great for years to come.
Chem-Dry professional technicians can remove most any stain. Armed with an arsenal of the industry's finest stain-removal products and tools, Chem-Dry can remove, or minimize all types of stains.
Your best chance for removing a stain is as quickly as possible after the spot is made. The longer a spot sits on the carpet or upholstery, the harder it becomes to remove. While most stains can be removed, some require advanced technical skill and expert cleaning solutions. Chem-Dry leads the industry in products and solutions, helping you win the battle against tough stains.
Chem-Dry technicians are willing to try and remove any stain. We have had success removing spots such as: berries, soda, juice, blood, candy, nail polish, coffee, honey, Kool-Aid, jelly, mud, lipstick, Ketchup, marker, rust, throw-up, urine, wine and many others. Each stain is somewhat unique, but our staff is expertly armed to battle even the toughest stains.
"If we can't get it out. No one can." Your Chem-Dry professional is prepared with tools to remove virtually any stain. Our technician will prepare an on-site evaluation for any stains and provide a no-obligation estimate.
From ink to wine and coffee, glues or other seemingly permanent damage, you can trust Mr. Chem-Dry to remove those stubborn stains. Call 801-298-8125 today to learn more.