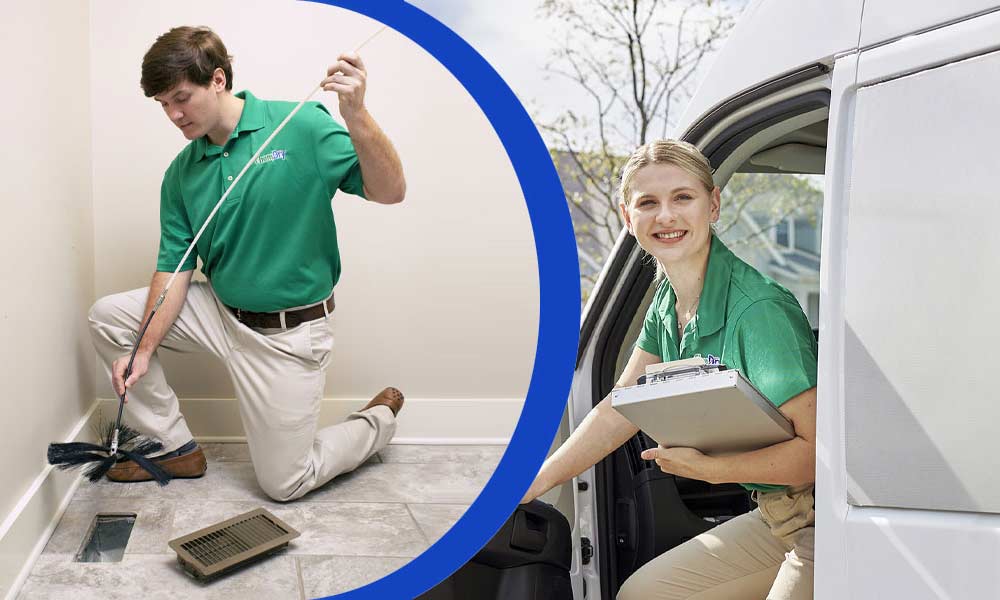 Air Duct Cleaning Services
As The Healthy Home Authority®, Chem-Dry offers cleaning services for your entire home. This includes our Professional Air Duct Cleaning service, helping you maintain a clean, healthy, and functional ventilation system. With air duct cleaning from Chem-Dry, you and your family can breathe easy!.
Why Clean Your Air Ducts?
At Chem-Dry, we know that your air ducts play a critical role when it comes to indoor air quality.
According to the Environmental Protection Agency, indoor air is often more polluted than the air outdoors. Air ducts are a major part of your HVAC system, which act like the "lungs" of your home. It's important to keep them healthy with regular cleanings by a professional air duct cleaning company.
Over time, pounds of dirt and grime can build up in your air ducts. These contaminants can be recirculated through your home between 5 and 7 times per day.
Dirty air ducts not only increase indoor air pollution — they can also worsen health conditions like asthma and allergies. At the same time, air duct build-up can make your air ducts less efficient, which results in increased energy costs.
The Chem-Dry Air Duct Cleaning Process
Our air duct cleaning process uses a Negative Air Cleaning method that meets the National Air Duct Cleaning Association's high standards for healthy impact. With our process, negative air pressure seals your HVAC system during cleaning to prevent dirt and debris from entering the airflow of your home. It also helps to ensure a more complete removal of contaminants.
Our professionally trained technicians will complete your air duct cleaning in four steps:
Thorough Inspection
Photos will be taken from inside your vents to assess the design, layout, and construction materials used.

The technician will determine the best cleaning process for your home.
Negative Air System
The technician will connect our industry-leading Negative Air System to your HVAC.

This system will dislodge dirt and debris in your air ducts and HVAC unit.
Deep Cleaning
Next we clean the HVAC supply, return, and blower fan

Using powerful vacuum equipment, we'll extract all the dirt and grime that has been loosened throughout the process.

We employ HEPA filtration to ensure that clean, healthy air is returning into your home.
System Verification
Now that the cleaning process is complete, the technician will confirm that your HVAC unit is functioning well.

The final step is a post-cleaning inspection that uses cameras and photos to verify results.
Our professional air duct cleaning technicians use industry-leading equipment. This equipment is designed and manufactured by one of the top producers of HEPA filtered vacuum manufacturers in the country.
In just hours, our air duct cleaning process will leave your air ducts and your home cleaner and healthier for your entire family. Call us today to schedule!
Get Your Free Air Duct Cleaning Quote Today!
Contact us to get a free quote and request a service appointment. We'll discuss your needs, provide you with a no-obligation quote and can begin the cleaning process at your convenience.